Summary
: Item: P6.6mm Indoor soft LED Display with Cylinder Design type Place: Seoul, South Korea Detail of led display: P6.66mm Cylinder LED Display With SMD3528 NATIONSTAR LED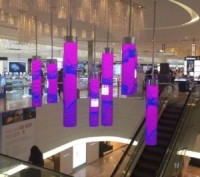 Item:P6.6mm Indoor soft LED Display with Cylinder Design type
Place: Seoul, South Korea
Detail of led display:
1. 1.P6.66mm Cylinder LED Display
2. 2.With SMD3528 NATIONSTAR LED
3. 3.Design 7pcs Cyliner leddisplay, and each Cylinder LED Display size: Diameter 1.6M and height 4.5M.
4. 4.Front Service Soft LED Module,Module size: 320mm x 160mm
5. 5.LED Pitch: P6.66mm and P10mmprovided
6. 6.Design Types:Circle,Cylinder,Ball,Half Circle,Curved and others should be customized byClient.