Introduction:
P10mm Indoor SLIM LIGHT Rental led display PR-LIGHT:
Rental LED Displays has huge markets during these years, and to let ourproducts perfect-standard out from all of our competitors, we developed a newled display featuring Small pitch, High Resolution, More lighter and easy toassemble led display cabinets. Such as Our Indoor Rental Slim LED Display PR-LIGHTSeries, the assembled cabinet totally weight less than 22KG, and which makestransportation and disassembling operations much easier.
Features
P10mm Indoor SLIM LIGHT Rental led display PR-LIGHT:
1. The High Definition led display adopts patented SMD EncapsulationTechnology..
2. We take SLIM LIGHT Rental hangingsystem led display cabinets, the cabinets are made by quality aluminum alloy5052 through Ultra-thin processors, which helps ensure higher precision, smalljoint and reliable strength.
3. For this type PR-LIGHT series cabinets, we can design the Pitch P7.62MM, P10MMfor clients optional.
4.The cabinets are designed with receptacle compatibility in mind, Availablecompatible receptacle includes, NEUTRICK,SEENTRONIC,CHOGORI connectors.Customization requirement can also be met..
5. So Lighter LED Display cabinet, standard cabinet size 960mm x 960mm,only 22KG/pc.
6. The high refresh rate of 800HZ, accurate color reproduction, 18Bit grayscaleand brightness correction function combine to enable the product to deliver HDquality videos, thus meeting various indoor use requirements.
If you are interested in our other Rental LED Display Products, Please visit our website at www.pstled.com or www.porstarled.net. and get price from our sale team, please email at sales@porstarled.net.
Technical Specification (P7.62mm Indoor SLIM LIGHT Rental led display PR-LIGHT):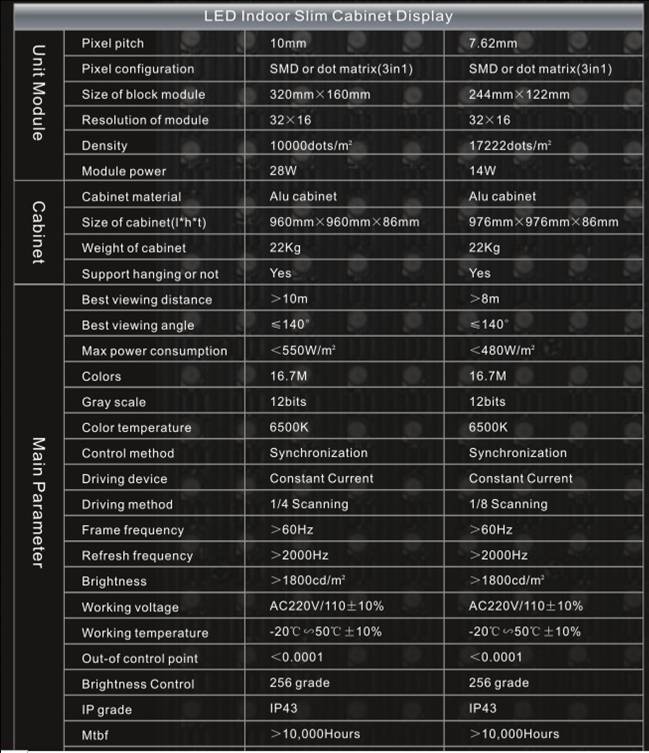 Detail cabinet Structure (P7.62mm Indoor SLIM LIGHT Rental led display PR-LIGHT):